Founded by Sean Collins and Alan Woods, our high-speed River Bus service started on 24 May 1999.
Captained by Sean, Storm Clipper ferried passengers from Greenland (Surrey Quays) Pier to Savoy Pier (now Woods Quay). Together with Star and Sky Clippers, we carried around 80 passengers per day in our early years. 20+ years on and passenger numbers have risen significantly; we served over four million customers in 2019!
Hurricane Clipper joined us in 2001 followed by Sun and Moon Clippers in 2005. In 2006 AEG, owners and operators of The O2, acquired the majority stake in the company and invested significantly in our fleet.
Aurora, Cyclone, Meteor, Monsoon, Tornado & Typhoon Clippers, the 'Typhoon Class' vessels, entered service between 2007 and 2008. Our Hunt Class vessels (Jupiter, Mercury, Galaxy, Neptune and Venus Clippers) joined the fleet between 2015 and 2019. We now have 17 high-speed catamarans and operate River Buses on a 10-20 minute frequency between key London piers.
Our River Bus service currently serves 23 piers, from Putney Pier in the west to Woolwich (Royal Arsenal) Pier in the east. In winter 2021, we will expand our service further east when our 24th pier, Barking Riverside Pier, opens.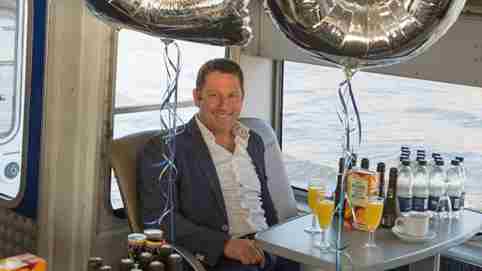 Sean Collins, our CEO and Co-Founder, celebrating our 20th birthday aboard Storm Clipper.
Our partner
In August 2020, we entered into an exciting partnership with Uber and became known as Uber Boat by Thames Clippers.
River Bus tickets are now available through the Uber app, in addition to existing payment methods, meaning User app users can buy tickets in advance and then use QR technology to board. This provides Londoners and visitors with even more options to commute, visit, explore and enjoy the capital by river.