We're back!
From galleries to indoor dining, more of our city has reopened, so let's make memories this summer. Our new timetable has services starting earlier and finishing later in the day, increased frequency and more stops at select piers.
We are committed to the health and safety of our passengers and staff and have been recognised by VisitEngland, The AA and The World Travel & Tourism Council for introducing safety measures that help reduce the risk of Covid-19 transmission.
Find out more about our Covid-19 safety measures
Our luxurious high-speed catamarans call at 23 River Bus piers across the capital, with a 10-20 minute frequency at key London piers
Boats travel directly between Greenwich and Battersea Power Station piers with stops at Tower, Bankside for Tate Modern and St Paul's Cathedral, Westminster and London Eye.
Check timetable before travelling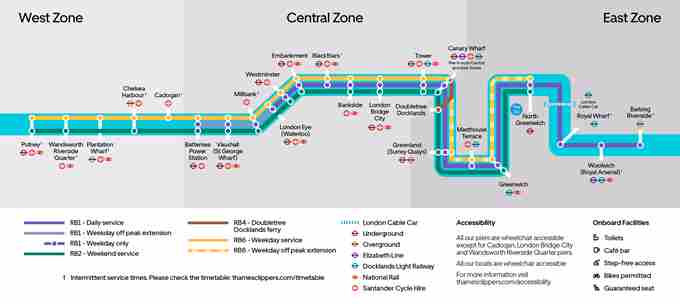 Ticket types and ways to pay
We have a range of tickets available for visitors to enjoy their travel time and convenient payment methods.
Tickets for single journeys are available, or for multiple trips throughout one day, River Roamer tickets allow for unlimited all-day travel so customers can travel pier to pier across London. London Pass holders receive a River Roamer ticket at no extra cost! 
Visit booking.thamesclippers.com to purchase tickets in advance of travel.

Tickets bought online are 10% cheaper than tickets bought at ticket machines or ticket offices.

Customers can download the Thames Clippers Tickets app, or the Uber app, to buy tickets.

Activate tickets before boarding our vessels.

Oyster readers are located next to the boarding gates. Customers can simply touch in when instructed, and touch out as they disembark our vessels using an Oyster or contacless payment card for pay as you go.

Paper tickets can be bought at our staffed ticket offices during open hours or at ticket machines on all piers.
Guaranteed seat

Comfortable seats in climate controlled cabins and fresh air on the outside back deck. 

Café bar

A whole range of refreshments and snacks are available from coffee to beer and wine. 

Bikes permitted

Bikes can be brought on board at no extra charge. We can carry up to 14 bikes depending on the vessel. Pets are also welcome.

Toilets

There are toilets with accessible facilities on board most of the fleet. Our larger boats also have baby changing tables.